These Weleda homeopathic natural remedies are must-haves for every home.
Weleda natural remedies have been available for many years, alongside their well-known skincare. But if you've no idea where to start, we've picked out some key remedies you should have in your first aid kit.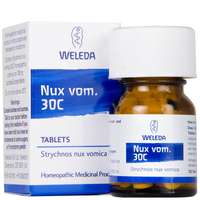 Nux Vom
You've eaten too much. You feel nervous and sick about something stressful. You have indigestion. You're travel sick. For all of these – reach for the Nux Vom. Great to have in your family first-aid kit, they're a wonderful aid for nausea in most situations, and great too for kids (the tiny tablets are easy to chew and swallow).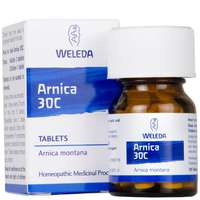 Arnica 
Probably one you've most likely heard of, Arnica is the 'bruise' pill. Commonly used by sportsmen, Arnica is another remedy you should definitely have in your first aid kit. Not only does it help reduce swelling and bruising after the event, it can also prevent it. It's regularly suggested to women about to go into labour, as well as anyone due to have surgery or dental work. Check with your doctor first, but you should find this is a great aid in helping you recover faster. It's also useful for general aching after a hard day's work and rheumatic aches. You might also find Rhus Tox useful, used for similar issues as well as shingles, chickenpox and sciatica.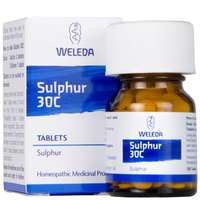 Sulphur
A wonderful treatment for the skin, Sulphur has been shown to help acne, eczema and psoriasis. It's also useful for treatment of chesty coughs and colds, and especially ailments where the person is emotional. It has also been shown to be useful in cases of B.O.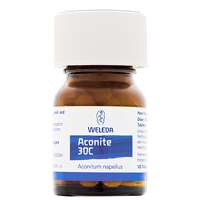 Aconite 
Ideal for anxiety, fear or grief, Aconite is a very useful remedy to have in the house. It's also ideal for nervous pets (eg when travelling or on Bonfire Night). Aconite helps to calm the nerves and soothe your symptoms of unease; as a pre-exam treatment, or after a shock, it's a handy remedy to turn to.
What is Homeopathy?
It's been around since Greek times, but Homeopathy, as we know it today, can be traced to Dr Samuel Hahnemann in the 18th century, with the London Homeopathic Hospital founded in 1849 and homeopathy available on the NHS since 1952.
Homeopathy is a holistic system (ie it takes into account the whole person, not just the symptom) and works on the principle of like cures like. It stimulates the body's own healing response with micro-doses, instead of conventional treatment that would aim to suppress a symptom (eg a 'painkiller'). As a simple example, someone with watering eyes and a streaming nose could take a homeopathic dose of onions (allium), because if you chopped them with absolutely no symptoms, that's what it would do to you.
Are Homeopathic Natural Remedies Safe?
Yes, anyone can use them and, because they use such tiny micro-doses, they're totally safe. However, a word of warning: you may find you get worse before you get better! This is completely normal and a sign the treatment is working. Weleda advises "stop taking the remedy until the aggravation has passed and only resume if necessary. Aggravations are most common with skin disorders, as the body "throws out" the disease." Note it's best not to use them if you're pregnant, and anyone under 2 years should not receive treatment.
For more information on how to use homeopathic treatment, please visit the Weleda website here. And to shop all Weleda natural remedies online at allbeauty, please click here.