Kérastase Extentioniste is brand new for summer 2018 and promises stronger, longer hair with less breakage. Here's what you need to know…
Kérastase Extentioniste is now available online at allbeauty – shop all Kérastase here.
In recent years, more and more of us have chosen longer hair – gone are the days when we went straight to the hairdresser for a neat bob on our 35th birthday! But with long hair comes certain challenges. Split ends can be a nightmare – just when it seems we've grown out our locks, we're forced to have inches cut off to neaten them up. Factor in stress, pollution, overprocessing, poor diet etc., and suddenly having long hair seems like only a dream.
Renowned, luxury hair care brand Kérastase has a brand new solution, with the creation of Extentioniste. The newest range in the Kérastase family, its role is to support the hair from root to tip. For women seeking healthy, stronger, longer hair, Kérastase Extentioniste is a daily training program to help you achieve your hairstyle goals.
Kérastase Extentioniste – The Science
Together with the hair experts at Recherche Avancée L'Oréal, Kérastase has developed exclusive Creatine R™ – a powerful fusion of Creatine and Ceramides. Creatine is an amino-acid used by athletes, and is used here to reinforce the hair fibre structure. Ceramides shield the hair, keeping the cuticle smooth and retaining moisture, meaning the hair's natural lustre is restored.  Creatine R™ Complex works in two ways to help reinforce and protect the hair fibre from damage:
By working on the surface to mimic the hair's natural lipids and smooth the hair fibre
By helping to form temporary bonds within the hair fibre which help keep hair looking beautifully healthy, as it continues to grow
How To Use Kérastase Extentioniste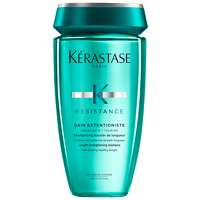 Bain Extentioniste Shampoo – provides strength and softness, and helps ensure visibly healthy hair and scalp. Apply directly to the hair, and gently lather. Rinse and repeat.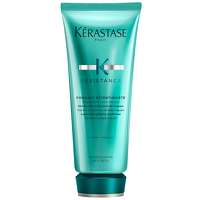 Bain Extentioniste Fondant Conditioner – strengthens lengths and tips, and provides powerful detangling. Remove excess water after cleansing and spread a small quantity onto the hair, starting at the tips and working to the root. Rinse.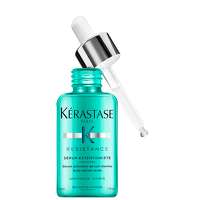 Serum Extentioniste – scalp and hair serum, that helps to ensure stronger hair fibre from the root. Use once or twice a week, and apply 2 or 3 full pipettes along the scalp after using shampoo and conditioner. Use the tips of the fingers to work the serum into the scalp with circular motions. Do not rinse.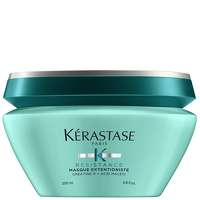 Masque Extentioniste – length and tip strengthening mask, with powerful detangling. Remove excess water after cleansing and apply onto lengths and ends. Massage and twist the strands. Leave for 5 minutes then rinse.
Want to learn more about the Kérastase family? Discover how to decode your hair here.